News
August 14th 2022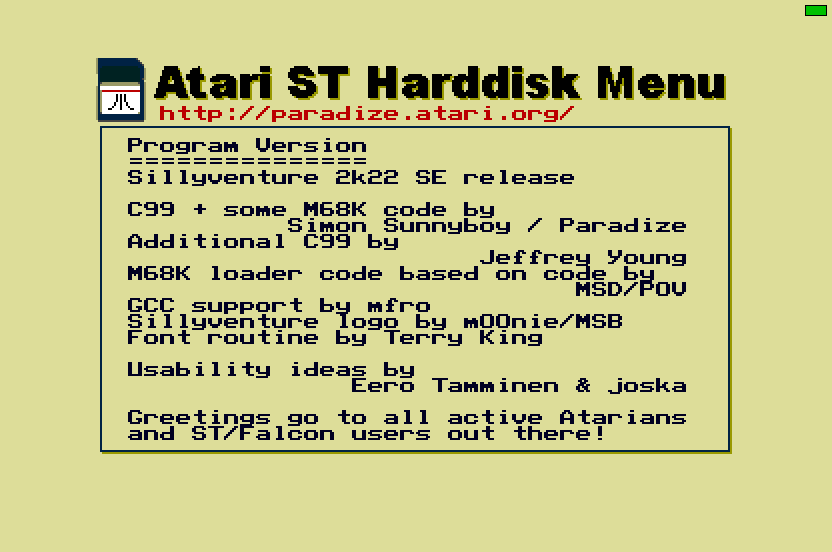 Simon Sunnyboy released an update of the Atari ST Harddisk Menu today.
This feature update coincides with Sillyventure 2K22 Summer edition in Gdansk.
Check it out in the Tools section
November 9th 2016
The Atari ST hardisk menu now allows searching for the next entry beginning with a typed character or number. Also some keyboard buffer issues were cured.
Grab the update from the Tools section
May 27th 2016
Small usability updates for the Atari ST hardisk menu. Grab it from the Tools section
May 18th 2016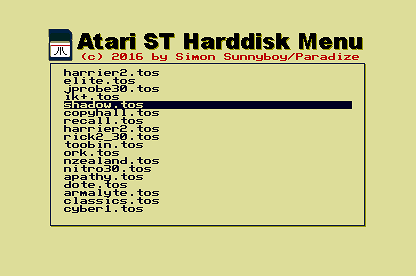 Simon Sunnyboy released his Atari ST Harddisk Menu today.
This is an AUTO folder menu like a compact disk for harddisk use.
Check it out in the Tools section
May 15th 2016
Generic website overhaul with removal of antique items and wrong information.
Update for CSS stylesheet
May 13th 2016
Cooper released his game 'Catch me If you can' into the public outside of the original contest. Grab it from out our Games section for download
There is also a card puzzle game for Falcon owners out there.Check out Cooper's King Solitair at the Games section for download
May 12th 2016
Wow, that was quite awhile!
The Paradize website is getting a small overhaul as you can see. Expect some releases listed soon as well.
February 11th 2013
Huh, long time no news :(
But Paradize is still alive, even if time is sparse for code and stuffs.
Simon Sunnyboy updated his Falcon Volume control utility on request. There are now 3 AUTO folder versions which will set one of the 3 preset volume levels.
Download the updated version at the Tools section
May 27th 2012
Simon Sunnyboy publishes his STE Playfield access routines for AHCC.
Special thanks to Klapauzius and Nicolas Pomarede for helping with the Timer B stabilizer routine!
Get it at the AHCC section.
April 23th 2012
Cooper releases his new puzzle game Catch me if you can with a special associated contest to win an Atari Falcon 030 computer.
More details at www.jegagneunfalcon.fr or contact Cooper.
April 21th 2012
Orion_ left Paradize on his own wish, mainly because he is actually more active on his own.
All the best, mate and no bad feelings!
---
Older news items can be found at the Old news page
---
All new articles are written by Simon Sunnyboy. Contact me for complaints.